■[CD] Visible Cloaks, Yoshio Ojima & Satsuki Shibano – FRKWYS Vol. 15: serenitatem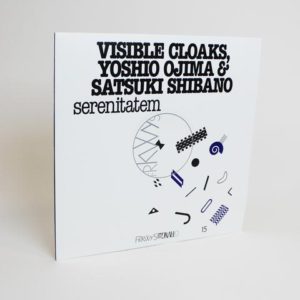 Visible Cloaks, Yoshio Ojima & Satsuki Shibano
FRKWYS Vol. 15: serenitatem
ニューアルバム
2019年4月19日リリース
AMIP-0166
定価¥2,100(税抜価格)+ tax
レーベル : RVNG intl.
発売:Inpartmaint Inc.
CDのみボーナストラック"Toi (Tokyo Mix)"収録
現代アンビエントの最高峰Visible Cloaksと、日本の環境音楽/アンビエントを牽引して来た尾島由郎/柴野さつきによるコラボレーション作。
VINYL
Side A (33 RPM)
A1. Toi (5:51)
A2. Anata (2:31)
A3. You (4:58)
A4. Atelier (6:48)
A5. S'Amours ne fair par sa grace adoucir (Ballade 1) (2:31)
Side B (33 RPM)
B1. Lapis Lazuli (9:11)
B2. Stratum (7:12)
B3. Canzona per sonare no. 4 (6:36)

CD / DIGITAL
Toi (5:51)
Anata (2:31)
You (4:58)
Atelier (6:48)
S'Amours ne fair par sa grace adoucir (Ballade 1) (2:31)
Lapis Lazuli (9:11)
Stratum (7:12)
Canzona per sonare no. 4 (6:36)
Toi (Tokyo Mix) (9:28)
All music by Spencer Doran and Ryan Carlile (Visible Cloaks), Yoshio Ojima, and Satsuki Shibano, except "S'Amours ne fait par sa grace adoucir (Ballade 1)" by Guillaume de Machaut (1300–1377) and "Canzona per sonare no. 4" by Giovanni Gabrieli (1557–1612).
Recorded by Naoto Shibuya (PYXIE LLC) at Sounduno, Shibano's atelier, December 2017 through early 2018 (Tokyo, Japan).
Additional recording and pre-production by Spencer Doran at Garden Studio (Portland, Oregon).
Mastering by Rashad Becker at Dubplates & Mastering (Berlin, Germany).
Piano Tuning: Takahiro Natori (Natori Piano, Tokyo, Japan)
Cover illustration by Molly Doran.
Stills from the serenitatem documentary, captured and produced by Pootee.
Design by Will Work for Good.
Project coordinator: Kensuke Hidaka

COME! MEND!
On behalf of Visible Cloaks, Yoshio Ojima, and Satsuki Shibano, a portion of the proceeds from this release will benefit Pink Ribbon, an international organization funding breast cancer research and awareness. pinkribbon.com — commendnyc.com